The Deputy High Commissioner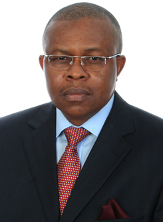 Mr. Dozie Nwanna, OON
Dozie Nwanna, OON, was appointed an Ambassador of the Federal Republic of Nigeria in April 2007 and assigned as Deputy High Commissioner to the United Kingdom. A career diplomat, he had previously served in France and South Africa.
For higher education, Nwanna went to the University of Nigeria and graduated in psychology in 1978. He has attended many courses during his career, including studying for the Master of International and Strategic Studies (MISS) programme of the Ambrose Alli University, Ekpoma, between 1998 and 2000.
Nwanna formally joined the Nigerian civil service as an Investigation Officer at the Public Complaints Commission in 1979 and has been appointed into various positions, including being an Acting Director of Administration at the National Space Research and Development Agency in 1999 and a Foreign Service Officer (Special Grade) in 2004.
He has very strong personal interests in the study of war games, a field in which he has patented inventions and developed a war analysis and strategy prognostication device (termed the WASP Technology) for the military. Apart from serving a consultant on war games to the Nigerian Army between 1988 and 1992, Nwanna has given many public and private exhibitions on his inventions and their fallout. In addition, he privately sponsors and promotes the establishment of Doziet (war-game) Clubs for recreation and for general enlightenment on Strategy. In 2001, Nigeria's national honour of Officer of the Order of the Niger (OON) was conferred on the inventor for services to Nigeria with his groundbreaking Doziet war games and their spin-off.
Born on 6th August 1954, Ambassador Nwanna is married and has two daughters. For hobby, he sings as well as plays the guitar. A lyricist, he enjoys and writes poetry, and listens to classical and martial music.