The High Commissioner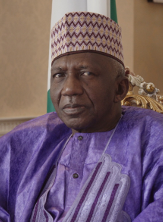 His Excellency,
Dr. Dalhatu Sarki Tafida, OFR MBBS,MRCP, FNMCP, FWACP
His Excellency, Dr Dalhatu Sarki Tafida, OFR, was born on 24 November 1940 in Zaria, Kaduna State. He had his elementary education at Elementary Town School II in Zaria from 1947-1951. From 1952-1953, he attended the Middle School also in Zaria. He proceeded to Barewa College, Zaria from 1954 - 1959. From 1960 - 1961, he attended Government College, Keffi where he obtained his Higher School Certificate (HSC).
He embarked on his medical education at the College of Medicine, University of Lagos from 1962-1967, where he obtained the degrees of Bachelor of Medicine and Bachelor of Surgery (MBBS). To further his medical education, he undertook postgraduate studies at the Royal Victoria Infirmary, New Castle Upon-Tyne, England from 1970 - 1971 and at the University of Liverpool, England from 1971-1972 where he obtained a Postgraduate Diploma in Public Health. Further post-graduate studies took him to the John Hopkins University in the USA in 1974.
His medical appointments include: House Officer, Ahmadu Bello University, from 1967-1968; Senior House Officer, 1968 - 1969. He was then appointed Registrar from 1969 - 1970. Dr TAFIDA was Clinical Assistant in Medicine at Royal Victoria Infirmary, New Castle Upon-Tyne from 1970 - 1971 and Senior Registrar in Medicine in Katsina Specialist Hospital from 1972 - 1973. He was Consultant Physician, Ministry of Health, Kaduna State from 1973 - 1976. He was appointed Permanent Secretary, Ministry of Health, Kaduna in 1976, a post he held for four years. From 1980 - 1983, he was the Chief Physician to President, Federal Republic of Nigeria. From 1984 - 1987, he served variously as Commissioner of Health, Agriculture and Education in Kaduna State. Between 1993 - 1995, he was Federal Minister of Health.
Before his appointment as High Commissioner, His Excellency represented Kaduna North in the Senate from 2003 - 2007 where he was also the Senate Majority Leader during this period.
Other appointments held and medical awards received by His Excellency include: Pro-Chancellor, University of Agriculture, Makurdi from 1989 - 1991; Member of the Royal College of Physicians, (MRCP) - 1971; Fellow, Nigerian Medical College of Physicians (FNMCP) - 1975; West African College of Physicians (FWACP) - 1975.
Dr. TAFIDA is married to Salamatu Ndana TAFIDA and is blessed with nine children. In 1983, His Excellency received the national honour of the Order of the Federal Republic (OFR) and he was conferred the traditional title of Tafidan Zazzau in 1995.
His hobbies include: Scrabbles and Table Tennis.